We didn't update our journey over December. What with Christmas and other happy-type events …things kinda slide and must do's become optional do's in those types of time brackets. Anyway, our cascade trainers hit the ground over December and January. They were fairly well trained to coach the farmers. And we mean coach – not train. Training encompasses lots of things – not all of which is directly relevant to a particular task.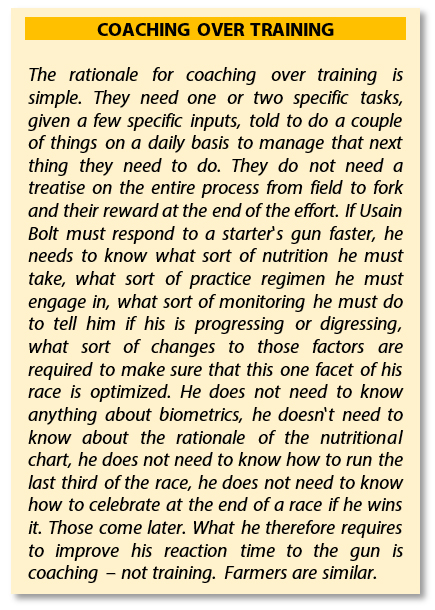 For example, a person training someone else on biodiversity will instruct them on everything from international covenants through diversity dynamics of a given geography to the realities of agricultural crop diversity to the actual biological assets and what determines whether each flies or dies. This is because they need that sort of holistic knowledge if they are to train others. However, when those "others" are farmers, fighting to keep their noses above water, battling impossible odds, taking whatever comes their way to keep the home fires burning for one more day… well… those warriors have no time to be told the merits of a specific type of metal over another in the mammoty they use against a soil hardened to rocklike consistency by a two year drought. They need to know how to secure their water. They do not need to count unhatched chickens or should we say unharvested cinnamon and simply need to know how to actually get to the point where a harvest is possible. Once they've got their outcome, then we can start thinking about markets, prices and replenishing of seed stocks.
This is why we changed the way we do things from "training" to "coaching". Instead of throwing the knowledge book at them or bashing them over the head with it, we simply instruct them, stage by stage, what to do to get to the next level. Our TOTs were given very clear instructions on what to say, and above all, when to say it.Their task timeline was simple. First tell the farmers what sort of mad exercise they were engaging in with agrochemicals and why they would never get anywhere in life with those. Next, tell them they have a hard journey ahead of them. Then stop sermonizing. Teach them how to create organic inputs. Give them seeds, tell them how to replenish them. Tell them how to plant and how to maintain their crops. Tell them how to harvest and store. Give them instructions on seed banking individually and collectively. Link them to markets. Get them their deserved profits. Make sure they are capable of continuing down this altered farming path. Add a final sermon on the shame of dependency. Get the hell out of the place and let the people do their thing. Each of those to be delivered in the right amount at the right time.
Just as much as we think we did a decent job of training them, we think they did a very decent job of using that training to coach the 2250 farmers. As with Bolt, the farmers now know how to get themselves up, running, planting. Next steps? Well… not now. Later.